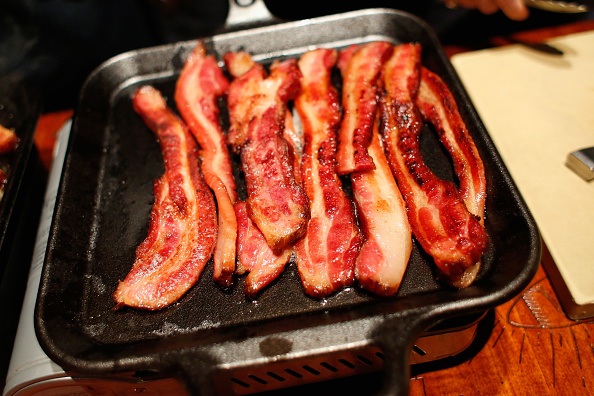 Bacon. Just saying the word makes taste buds water and almost evokes the mouth-watering, stomach-growling, wondrous smell. Some refer to bacon as the "meat candy". As far as that goes, it makes sense. Bacon is the most irresistible meat there is and sometimes it's even sweet, like maple cured bacon. And if you leave it laying about, someone is going to snatch a piece of it when no one is looking! Yes, bacon is a hot commodity and not just for breakfast anymore, even though it IS eaten with eggs 71% of the time. With all the different ways of cooking it or cooking with it, it can be eaten anytime of day.
Bacon can be fried, smoked, baked, grilled, or broiled and eaten as is, or it can be used to flavor other foods, such soups or sauces, like Bacon Alfredo. Crumbled bacon can be mixed with other foods, like salads or baked potatoes. Bacon can be wrapped around other foods, as well, such as filet mignon or shrimp. There are so many ways of eating it because it's so good, we want to put it on everything. No matter how it's fixed or mixed with, bacon is delicious. We just can't get enough of it!
Bacon is quite popular for eating all over the world. There are also other ways of using bacon that don't include eating. Can you imagine? Even if you eat bacon every single day, there's probably plenty that you don't know about bacon. So, here's 25 things you didn't know about bacon. Get your bacon cheeseburger and settle in for a good show.
(Photo by Brian Ach/Getty Images for New York Magazine)