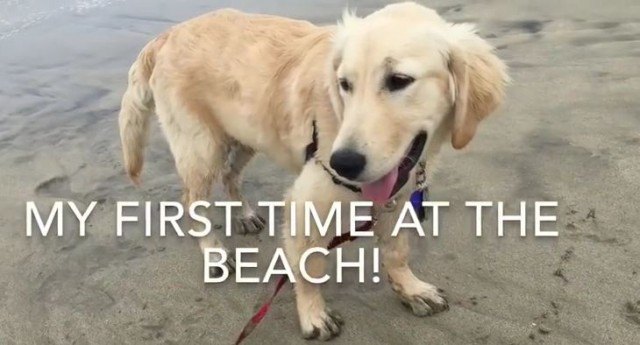 Jenny, a Golden Retriever service dog had no idea what she was in for when her "mom" took her to the beach. It was her first time there and she had no idea what to expect. Despite Jenny being a bit reluctant to go in the water at first, she warmed up to it quickly and had an amazing time. She'd have to right? After all, Golden Retrievers love swimming.
The video that you are about to see which was posted on Jenny's FB page, details the dog's amazing day which includes digging for seashells, rolling around in the sand, and of course, splashing in the water. And all the while there's a montage that's set to the Beach Boys hit (David Lee Roth version) "California Girls."
"I had the best day ever! I want to go to the beach everyday! I can't believe it took Mama this long to take me for my first time. The most important thing is that it has water — and lots of it! I have a video to show you of all the fun I had in the ocean," the dog's official Facebook page reads (from the dog's point of view).
Check out the amazing video below!