Some of the best restaurants in the world are found right in your own backyard – or at least in the country for those of us who don't want to make a long flight or dig out our passports. New York City is home to some of the world's most exclusive, most popular, most talked-about restaurants in the world, and some of them are not that easy to get into. Unless you're planning a trip to the city or a dinner months in advance, you're not going to get a table at the 10 hardest to get into restaurants in the city.
(Photo by Spencer Platt/Getty Images)
Babbo
This Waverly Place restaurant is owned by none other than celebrity Chef Mario Batali. Its Italian menu is worth the wait for a table, which you might find a bit lengthy. It's a celebrity hotspot, though, as many famous faces make it a point to dine here as often as possible thanks to the delicious food, remarkable wine list and the atmosphere and ambiance provided at the restaurant. The drama of being able to get a table here is big time. You have to call and set a reservation for exactly one month in advance and the reservation line can take up to 4 hours to get through!
(Photo by Afton Almaraz/Getty Images)
Per Se
It's located in Hell's Kitchen, which might not be the Upper East Side, but it's one of the most exclusive restaurants in the city. The restaurant is based on The French Laundry, a wonderful restaurant in Yountville (part of Napa Valley's exclusive wine country, and a decadent restaurant at which I've had the pleasure of dining while visiting the valley). The décor is similar and it doesn't feel even remotely as though you're in the city. In fact, it feels like you are in the French countryside, which is probably why it takes months to get a reservation here when you're in the city.
(Photo by Rob Kim/Getty Images for Starwood Preferred Guest)
DANIEL
If you're going to make a reservation at any of the most exclusive restaurants in NYC, make it DANIEL. It's one of the best locations, one of the best menus and one of the best dining experiences you will even have the pleasure of enjoying. Named after the chef and owner, Daniel Boulud, this French contemporary restaurant is difficult to get into. To make a reservation here, you'll want to call several months in advance and be prepared to have several backup dates available in case you can't get the date you want – even that far in advance.  Also be prepared to spend north of $400 for a dinner for two.
(Photo by John Moore/Getty Images)
Masa
Not only is Masa one of the most exclusive restaurants in the City, it's the most expensive in the world. Masa does not offer a standard menu, just as tasting menu. The price per person is almost $500 and that's without a cocktail or two to enjoy along with dinner. If you are fortunate enough to make a reservation here, you're going to want to keep it because cancelling will run you upward of $200 per person in your party just to cancel, which is why it's impossible to get into this restaurant without ample notice.
(Photo by Michael Loccisano/Getty Images)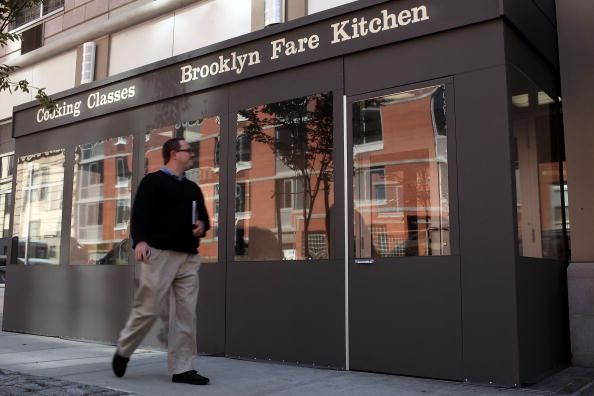 Brooklyn Fare
If you want to enjoy the gorgeous experience that is Brooklyn Fare, the only Michelin-star (3, at that) restaurant in Brooklyn, you need to call Monday morning at 10:30 am to make a reservation six weeks in advance. That's just the restaurant rule. If you don't call in time, you will miss out on making a reservation and will have to wait a week to call again and try to book for six weeks in advance. The kitchen table seats 18 and you can make a reservation for either two or four, and you'll only be able to make a reservation for Tuesday, Wednesday, Thursday, Friday or Saturday.
(Photo by Spencer Platt/Getty Images)
Eleven Madison Park
With executive chef Daniel Humm in charge, this restaurant has earned three Michelin stars. If you want to make a reservation at this gorgeous, popular restaurant, you're going to need to call on a weekday between 9 and 6, and you're going to have to wait at least 28 days to actually receive a reservation. It's not easy to get in here, as it's one of the most exclusive and recognized restaurants in the city. The good news, however, is that you can download the OpenTable app and make reservations (in advance) right there for this exclusive restaurant.
(Photo by Neilson Barnard/Getty Images for Blancpain)
Le Bernardin
Le Bernardin is another 3 Michelin star restaurant with a long list of reservations you'll have to wait on if you want to dine here. You can use OpenTable to make online reservations, though you'll only be able to make them 30 days or more in advance. Additionally, you can call the restaurant to make reservations for the following month on the first business day of the current month. This seafood restaurant recently underwent a renovation that only added to its ambiance and the desire of everyone in the city to want to enjoy dinner here.
(Photo by Spencer Platt/Getty Images)
Rao
If you want to get into this restaurant, owned by Frank Pelligrino, you might want to go ahead and also call the White House.  Rumor has it that you have a better chance of eating with the President than at Rao. These tables aren't made for reservations; they're for purchase. In fact, it's going to cost you anywhere from $1,000 to $25,000 to purchase a reservation here a year in advance. In fact, you have to buy your table and then buy your food on top of it. These tables are like box seats at a major sports league team's stadium; you have to know someone or be really, really famous to get in here.
(Photo by Spencer Platt/Getty Images)
Momofuku Ko
This East Village restaurant is owned by David Chang. It's hard to get into here because they use a special reservation system that opens up reservations approximately 8 days in advance at 10 am each day. The availabilities last approximately 3 seconds each, and it takes most people a good year of trying each day to finally secure a reservation in this restaurant. It's been said that there are no exceptions to this rule, and that even Chang's parents had to make their reservations this way when they wanted to dine here, and it took them a year to get a table.
(Photo by Mario Tama/Getty Images)
Waverly Inn
To get a table here, you better beg, call and beg some more, ask someone famous to call and beg for you, or hope you win the lottery or suddenly adopt the last name "Obama" or "Pitt-Jolie" or you're not getting in. The Waverly Inn is so popular that it uses a system called the lottery. They email people who've asked for reservations and bestow the honor upon a select few – if you're lucky. Vanity Fair's Graydon Carter owns the restaurant, and he prefers guests of the fashion industry, though it's been said local residents can easily get in if they know him.
(Photo by Astrid Stawiarz/Getty Images)